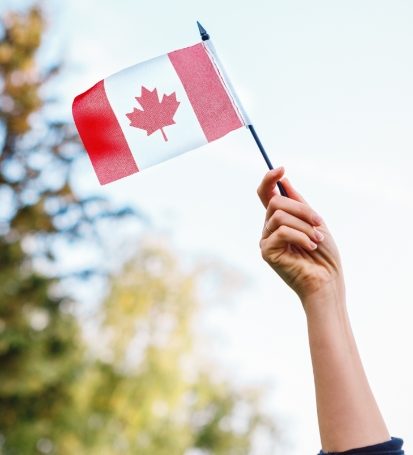 Canada is one of the most preferred immigration destinations for a lot of people around the world and there are several good reasons for that. Not only do you get to enjoy most of the same privileges it offers to its citizens as an immigrant, but Canada also provides you with a host of benefits that will surely convince you to live here permanently.
Without further ado, let's talk about the following benefits that living in Canada has to offer you and your family:
The country is immigrant-friendly
First of all, Canada is a highly immigrant-friendly country. As mentioned earlier, immigrants get to enjoy most of the same privileges that Canadian citizens are receiving. In fact, due to how immigrant-friendly the country is, 22% of Canada's 37 million residents are people from a foreign country. Therefore, immigrants will find it really easy to settle here, because the country is so diverse and welcoming.
Furthermore, once you live in Canada for three out of the last five years, you'll have the opportunity to become a Canadian citizen and will gain even further access to the benefits that Canadian citizens are enjoying. For example, as a citizen of Canada, you can vote, get a Canadian passport (one of the best for global access) and run for elected office.
Canada offers residents a high quality of life
If what you're after is a higher quality of life, then living in Canada as a permanent resident is one of your best options. Out of more than 200 countries, Canada has been ranked 9th by the United Nations as far as the quality of life is concerned. A global survey of thousands of people around the globe published by BAV Group, the University of Pennsylvania's Wharton School, and US News & World Report has ranked Canada #1 for quality of life and the #2 best country to live in overall for the past few years. This just goes to show how the quality of life in Canada is far better than in many other countries around the world.
Aside from high-quality health standards and access to a world-class education, Canada also offers various wellness programs for the benefit of its citizens. These benefits include pension plans, unemployment insurance, child care benefits, and subsidized social wellbeing among others.
If that's not enough to convince you, the cities of Calgary, Vancouver, and Toronto (all in Canada) are included in the top 10 most livable cities in the world according to The Economist Intelligence Unit.
Immigrating to Canada is easy
Overall, Canada is a safe destination to settle in and immigrating to the country is quite easy, too. Compared to other countries, the procedure for immigration to Canada isn't as complex. The Canadian authorities will simply evaluate you using various factors such as your educational qualification, employment skills, language compatibility, age, and financial stability, among other measures which vary depending on the particular Canadian immigration program.
Additionally, the country has a fast-track system known as Express Entry which is designed to make immigration to Canada for skilled workers hassle-free. The system uses a Comprehensive Ranking System to rank applicants based on their talents, and those who come out on the top of the rankings will be given an Invitation to Apply for permanent residency. There are also other ways to be invited to apply for Canadian immigration through the Express Entry system. Canadian Online Immigration can provide you with an evaluation of your eligibility for Express Entry.
Once you become a Canadian permanent resident, you'll then have the legal right to live and work in Canada anywhere you want. This means that if you start settling in Toronto, but get better employment in Vancouver, then you have the right to move. As long as you're a permanent resident, you're not tied to a particular employer or province! An exception to this general rule is if you become a Canadian permanent resident through the Provincial Nominee Program (PNP) or Quebec Select Worker Program (QSWP), since you are supposed to live and work in the Canadian province or territory that nominated you and needs your talents.
Tons of employment opportunities
Based on the Legatum Global Prosperity Index (2016), Canada is ranked 3rd out of 149 countries around the world in the Business Environment sub-index. This ranking simply means that you can find tons of amazing employment opportunities in Canada, regardless of your status, hence making it really advantageous to immigrants.
Besides, Canada is considered the 2nd largest country in the world. It has a lot of natural resources to offer, and various sectors like tourism, real estate, automobile manufacturing, aerospace, and IT won't be running out of employment opportunities anytime soon.
Lastly, employees in Canada can receive up to $1,011 of pay per week on average alongside various other incentives like group life insurance, health insurance, gifts, training expenses, vehicle allowances, and more.
It's quite safe and offers many health benefits
Canada is an extremely safe and clean environment. The country imposes a very strict gun law, thus limiting the ownership of handguns to only 1/3 of the entire population. You also won't find any civil war happening in the country. The excellent security that the country offers makes it one of the most peaceful and safest countries to live in.
Furthermore, you can gain access to Canada's universal healthcare if you're a permanent resident or a Canadian citizen. With universal healthcare, most healthcare services will be paid by the government and many others will be subsidized. You can also gain access to world-class facilities, medical staff, and treatment methods. It's for these reasons why Canada's health system is regarded as one of the fairest and best healthcare systems in the world. Therefore, it should come as no surprise that people living in Canada have one of the longest lifespans (an average of 81 years for men and 85 years for women)!
It offers quality education
Canada values education a lot, thereby ensuring its people have access to one of the best education systems in the world regardless of their background. For example, all children aged 18 and younger are entitled to free education in the country's public school system. Additionally, the Canadian government allocates a huge budget for their education system compared to other countries. This explains why a lot of Canadian students are able to perform well in academics. In fact, the children of immigrants tend to outperform students born in Canada when it comes to education.
Overall, Canada has the highest percentage of adults who have completed some type of post-secondary education (e.g., university, college, vocational school, etc.), leading some to refer to Canada as the "Education Superpower."
Other amazing benefits
In addition to all of the incredible benefits already mentioned, Canadian permanent residents also have the opportunity to buy a home; own other property in Canada; start a business; travel to and from Canada for extended periods of time; sponsor family members for a Canadian visa; and live in a multicultural country where the residents enjoy equality, freedom, and tolerance, regardless of whether they were born inside or outside of Canada!
Now that you know some of the many benefits that immigrating to Canada has to offer, this is the perfect time to make your decision. Canadian Online Immigration is here to help you with every step of the way. Just get in touch with us now so we can get started as soon as possible.
To start your journey toward living in Canada, click here!