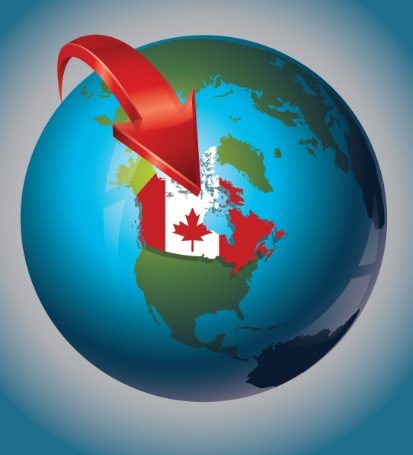 The primary method for getting a Permanent Resident (PR) Visa to Canada as a skilled foreign worker is by going through the Express Entry Canadian immigration process. This is Canada's online system used to manage the permanent residence applications of skilled workers who qualify for an eligible economic immigration program. Canadian Online Immigration can provide you with an evaluation of your eligibility for Express Entry and offers professional assistance during the application process.
An applicant's Express Entry profile should be sufficiently detailed and up-to-date to increase the chances of receiving an Invitation to Apply (ITA). Once the ITA is issued, the applicant has 60 days to submit their Canadian visa application. The decision for the application usually takes up to six months.
Applicants who are approved for Canadian immigration through the Express Entry system will receive permanent residency status. This status will allow the applicant to live, study and work in Canada for an extended period. A permanent resident visa holder also has the chance to become a Canadian citizen after three years and meeting the prescribed requirements.
Who Is Qualified?
Skilled foreign worker applicants eligible for one of the following Canadian visa programs can apply for Express Entry immigration to Canada:
Provincial Nominee Program (PNP)
Canadian Experience Class (CEC) Program
Federal Skilled Worker Program (FSWP)
Federal Skilled Trades Program (FSTP)
NOTE: The CEC Program is a way for international students and temporary foreign workers already living in Canada legally to apply for Canadian permanent residency from inside the country.
Step-by-Step Process
Here's the general step-by-step process of applying for Express Entry immigration to Canada:
1. Create an Online Express Entry Profile
Your online Express Entry profile should have complete relevant details about yourself and your family members if they are moving to Canada with you. Make sure that the details are up-to-date and 100% truthful as well.
2. Prepare the Documents Needed
After creating your profile, you must now prepare the necessary documents to show as evidence for your eligibility. Make sure to start preparing early as some documents may need a long period of time to get.
The most basic documents that you have to submit are a valid passport or travel document and English and/or French language test results. For the passport or travel document, refer to your local immigration office to obtain one if you don't already have it.
The language test results can be for English or French or both. You must get your test results for an authorized language evaluation exam such as the IELTS, CELPIP, and TEF. There is a minimum score required for each type of program, so check whether your assessment score qualifies for the Canadian immigration program that you are applying for. The language test score must have been received within the past two years.
Also, get an Educational Credential Assessment (ECA) if you are applying using the Federal Skilled Worker Program. An ECA is used to verify a foreign certificate, diploma, or degree. It must also come from an accredited body approved by Immigration, Refugees, and Citizenship Canada.
If you have a provincial nomination or a written job offer from a Canadian employer, prepare the necessary documentation for that as well.
3. Wait for the Verification
Once your Express Entry profile is all set up, and you have prepared all of the documents required up to this point, the next thing that you have to do is wait. A Canadian immigration officer will check your Express Entry profile to determine your eligibility to apply for one of the qualifying immigration programs (i.e., PNP, CEC, FSWP or FSTP). You will also receive a point score on the Express Entry Comprehensive Ranking System (CRS). A maximum of 1200 points are possible for various factors such as age, education, work experience, English and/or French language skills, etc.
If you have met the criteria and requirements indicated, your file will be placed in the Express Entry pool of candidates for up to 12 months.
4. Invitation to Apply (ITA)
If you have one of the highest scores on the Express Entry Comprehensive Ranking System (CRS) or you receive a provincial nomination for a PNP or you get a qualifying Canadian job offer, you will receive an Invitation to Apply (ITA). This means you have an official invitation to apply for a Permanent Resident (PR) Visa to Canada through the Express Entry system!
5. Apply for a Canadian Visa
After you receive the ITA, you will have up to 60 days to submit your Canadian Permanent Resident Visa Application with all of the required documents and the Canadian Visa Application Fee.
The documents required are already mentioned above, such as travel documents, language test results, and the ECA. Here are other documents that you also have to submit:
Proof of related work experience
Medical exam results
Police clearance certification
Bank documents ("Proof of Funds")
Furthermore, you will need to provide color photos and other biometrics data for yourself and each person in your application for a Canadian visa.
Additional requirements may be requested, so it is best to always keep your lines open for the latest updates. The decision of whether or not you are granted a Canadian visa for permanent residency will be made within six months after the submission of the comprehensive visa application.
If this procedure seems complicated, don't worry! The professionals at Canadian Online Immigration can explain each step of the process to you and help to make the application procedure as easy as possible for you and your family!
Reminders
Here are some important reminders to help make your Express Entry to Canada successful:
Make sure that your Express Entry profile is up-to-date. For example, if you recently received a Canadian job offer related to the industry you are applying for or received a provincial nomination for a PNP, you need to update your Express Entry profile so the Canadian immigration officials will be aware. This is important, because you could receive an Invitation to Apply (ITA), but only if the Canadian immigration officials know about it.
Update your Express Entry profile as well if you have recently completed a higher education program. Doing this could give you a higher score based on the Comprehensive Ranking System.
The Canadian immigration agency can only consider the factors that you declare, so make sure to include everything that proves that you are eligible in your online Express Entry profile!
The authorized immigration consultants who work with Canadian Online Immigration can provide you with an evaluation of your eligibility for Express Entry and offers guidance through each step of the process.
DISCLAIMER: This information is not and should not be considered as expert or professional advice.