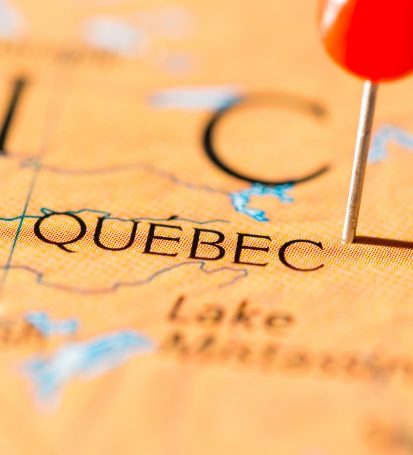 Quebec Skilled Worker Program (QSWP)
Like the other Canadian immigration programs for skilled workers, the Quebec Skilled Worker Program or QSWP provides foreign nationals specializing in specific occupations the opportunity to "seek greener pastures" living in Canada as well as to become a permanent resident of this prosperous country.
While the other programs cover many of Canada's provinces and territories, the QSWP is a special program dedicated solely to skilled foreign nationals who wish to live and work in the predominantly francophone Canadian province of Quebec.
This particular Canadian immigration program entails undergoing two major steps: applying for the local Quebec immigration program and then applying for permanent residency which only Canada's national government can grant.
Canadian Online Immigration offers assistance during the entire application process.
QSWP Overview
Similar to Canada's other immigration programs, the Quebec Skilled Worker Program aims to provide more Canadian job opportunities to skilled foreign workers that won't just give them more options for growth, but also meet the needs of this particular Canadian province.
The QSWP also uses a points-based system to evaluate a candidate's eligibility for the program, designating points for various factors and requiring a certain number of points as a minimum qualification.
The maximum and minimum limits of these points will depend on the foreign worker's marital status as the program evaluates the family of the applicant as well. For married applicants, further requirements are needed to become eligible for the program.
How to Apply
If the foreign worker meets the criteria for eligibility set by Quebec's provincial authorities, they can then move on to the application process which typically consists of two major parts:
1.  Application to the Quebec Skilled Worker Program
During this initial stage of the process, the interested applicant must submit his or her intention to apply via an Expression of Interest (EOI) through Quebec's online platform, the "ARRIMA" system. The EOI contains all the necessary details of the applicant such as personal information, educational background, work experience, language fluency, and more.
The foreign worker can log in and update the information should it be necessary. All the details will be assessed by Quebec's provincial authorities and they will decide whether he/she meets the criteria for eligibility. If they do, their EOI will then be stored in Quebec's Expression of Interest Bank (EIB).
They will then wait until the process is over and they receive their Certificat de Sélection du Québec (CSQ) (or the Québec Selection Certificate, in English) as well as their invitation from the provincial authorities.
2.  Application for Permanent Residency
The next major step of the process is the foreign worker's application for permanent residency. During this stage, the skilled immigrant will need to file an application for a permanent resident visa and include the supporting documents and fees with the national Canadian immigration agency.
These documents include the language test scores, medical exam, police certificate and other supporting documents.
Once the application is approved, they will receive their Confirmation of Permanent Residency (COPR) and their passport will be stamped with their Permanent Resident Visa to Canada. This will allow them to move to Quebec as a long-term resident.
They will also need to pay fees like the Canadian Visa Application Fee, Right of Permanent Residence Fee (RPRF) and Permanent Resident Card.
Why Quebec?
As the only Canadian province whose official language is French, Quebec already sets itself apart from the rest of Canada where English is the main language spoken by most residents. Its language, however, isn't the sole unique trait it possesses as Quebec has a rich and colorful history and culture which is evident in its residents and neighborhoods.
This is due to the area being settled by the French while the rest of modern Canada was settled by the British. As such, Quebec is different from the rest of the Canadian provinces and territories, making it truly one of the best places to live in Canada.
Quebec is also the largest province in Canada and is known for its natural beauty.
Moreover, as the second-leading province in terms of economic growth in Canada, there is no shortage when it comes to the creation of jobs, providing skilled foreign nationals plenty of work opportunities and room for growth.
This is only secondary, however, to the fact that Montreal, Quebec's largest city, has one of the highest standards of living among all the 450 cities that were evaluated in 2019's Mercer Global Quality of Living Survey.
Benefits of Living in Quebec
While the rest of Canada also has traits that are unique to each province and territory, Quebec has a certain charm that cannot be beaten. Settling in Quebec as a permanent resident and skilled worker offers more than just picturesque views and rich and colorful traditions.
Some of the benefits of living in Quebec are:
Excellent infrastructure and public transportation
Though not localized to Quebec, there is still something to be said about the excellence of their infrastructure and public transportation methods – both of which are easily accessible to residents.
World-class educational system
Quebec has some of the best schools in the country and as a resident of this province, you can enjoy preferential fees at any of their world-class universities.
Universal health care and social services
Quebec is also home to some of the best medical institutions in Canada and the universal healthcare makes it even more accessible to residents of the province.
Efficient and fast services
From government services to retail, as a resident of Quebec, you'll quickly notice the efficiency and quickness with which they provide services.
To learn about your Canadian immigration options, click here!
DISCLAIMER: This information is not and should not be considered as expert or professional advice.